This is a Chipyourcar.com Performance Chip review / analysis and comparison to the many other chips we have reviewed so far. The Chipyourcar.com Performance Chip is available directly via the website, chipyourcar.com. A direct link to the product page can be found here: https://www.chipyourcar.com/choose-vehicle/
If you are looking for a REAL Chipyourcar.com Performance chip Review, then this is for you! Don't believe the reviews on any manufacturer's website without checking into the product first yourself. Let's take a look:
Company Profile
The manufacturer is a company called 'chipyourcar', according to the packaging. Their website, chipyourcar.com, offers these chips exclusively, three power stages: 1, 2, and 3, at ridiculous prices. The website is suspicious also, in that it allows you to select the vehicle to find performance chips for. They have vehicle options that do not exist, like a 12-cylinder Acura vehicle for example. This is suspicious, as most performance chip scams claim to fit all vehicles.
Cost
The cost on the website at the time of this review, was $64.99 USD for Stage 1, claiming 20+HP gains, $139.99 for Stage 2, claiming 40+HP gains, and $209.99 for Stage 3, claiming 60+HP gains. The cost is again a very suspicious factor to us, as we already suspect what is inside each of these modules.
Product Appearance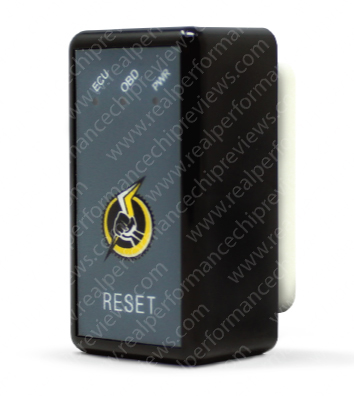 The OBD tuner module comes in the same color, yellow (pictured), but the website claims there are three different power stages. We did not want to take their word for it, so we purchased one of each for testing.
As for the appearance, we are already smell a scam – just look at the similarities to this ECU Chiptuning Box which sells for $7 on Aliexpress:

The instructions claim basically the same thing that the NitroOBD scam did – to have vehicle programming onboard to allow the device to optimize the vehicle performance when connected to the OBD port.
From the chipyourcar.com website:
"1. Make sure your car key is pulled out of the ignition
2. Find your OBD2/ Diagnostic port typically under your dashboard and plug in the chip.
3. Insert your key into the ignition and turn key to the accessory position to where your dash lights illuminate. If vehicle is equipped with ignition button,press ignition button with foot off the brake to access the accessory position.
4. Wait roughly 5-10 seconds for the chip to communicate with your ECU. Once chip-to-ECU connection is successful lights on chip front will flash rapidly.
5. Start vehicle.
6. Press and hold reset button located on the front of the performance chip face roughly 5 seconds to start programming the ECU. The Performance Chip stays plugged into the OBD2 port.
7. Drive as usual a minimum of 50 total miles to complete the software download. (You do not need to drive all 50 miles consecutively.)"
Once again, this is the same install procedure that the NitroOBD scam provided, although the Chipyourcar.com only claims to need 50 miles to adjust to the vehicle. Let's see what it actually does.
Internal Analysis
After removing the cover of each of the three modules – big surprise – we were not really surprised to find the old familiar circuit board, just rearranged, for those of you who were with us for the NitroOBD scam: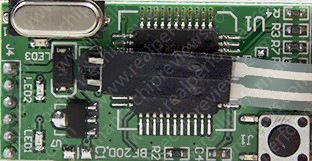 The circuit board is built around, once again, the PIC16F59 IC, although the location of the reset button has been rearranged. There is a cable connecting the reset button on the cover to the PCB, for easy use and to make it appear as a new design. Like with the NitroOBD scam chips, if one pulls the datasheet for the PIC16F59 IC, we can see from the manufacturer, Microchip, that this chip has a maximum program memory size of 3KB: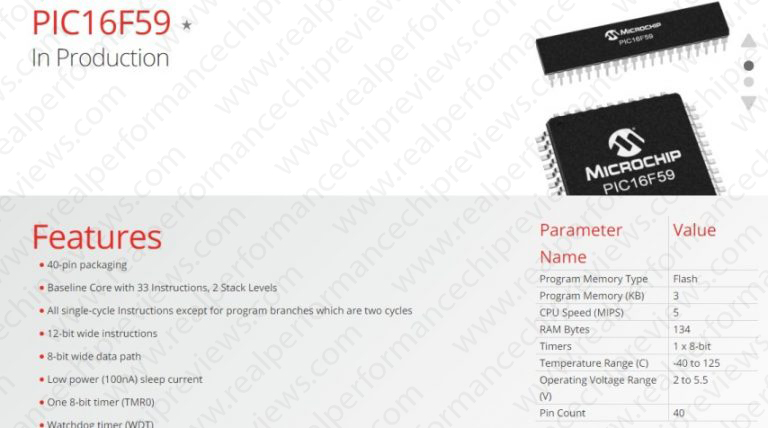 From several searches, we verified that ECU maps for a vehicle will be at least 20KB in size or larger PER MAP! This is way too large for the PIC16F59 IC to contain. So, if this is the case, there are no genuine vehicle maps onboard this module. What can be stored in such a small sized space then? We have our own suspicions.
Operation
We connected each of the three Chipyourcar.com modules as shown in the instructions to our 2012 BMW 530i 3.0L L6 and the three lights began to blink, eerily in the exact same sequence as the NitroOBD chip did.
We followed the instructions and drove at least 50+ miles as requested to give it the benefit of the doubt, and…… nothing. No power increase, no fuel economy increase. There is NO WAY we obtained 20, 40 or higher gains. We did, however, see a neat light show!
Analysis
It is clear from our analysis so far that the Chipyourcar.com Performance Module, like so many others, is nothing but a different colored NitroOBD chip with a modified circular reset button on the case! It does not have the physical memory on the chip to hold real vehicle ECU maps. 3KB of memory IS large enough for a light blinker program however, and we believe this is exactly what it truly is – a blinker in a newer yellow colored case. The circuit appears to monitor the pins from the OBD port and the small microprocessor blinks the lights when activity is detected, giving the appearance of the chip's operation. While some users online claim to have seen small gains in pickup or fuel economy, we believe this is due to either the placebo effect or other vehicle / environmental factors. While we did not get any error codes set by our Thunderbolt Performance Chips, others on the internet claim it does nothing.
The second issue is that there are SEVERAL bad customer experiences with this website posted on the web – please do your research before purchasing from this company – if the reviews are to be believed, you will have a very low chance of getting your money back once you fall for this scam!
Company Response
We sent the following message to the company before completing this review, and received this response.
Our message to the company:
Hello,
We are an automotive performance chip review group and saw your performance chip website. We have a few questions about your product:
1) Can you assure us this is not a NitroOBD scam? If so, why does the PCB inside look EXACTLY like the Nitro OBD chip?
2) Do you have any real-world proof of your performance?
Thanks for helping us to gather more information about your product for buyers on the net!

Company's response:

We agree – they do not have any relation to Nitro company-wise, but product-wise, it is identical, inside and out. They mentioned, 'all chips that plug into the OBD2 port have the same shape' – actually, only the SCAM chips have this same shape case. As for their claims the chips are dyno proven, we saw no evidence of this. Claiming that the tunes may be purchased from another local shop in Minnesota is a dead giveaway, because from our board analysis, we already know the chip is not capable of holding even one tune – just a light blinker script. At least they tried…
Conclusion
From our research and review, it is our opinion that the Chipyourcar.com Performance Chip is another scam, albeit one of the most expensive ones. It may also cause ECU damage, as reported by some users of the NitroOBD scam chip on the net, so we suggest avoiding it at all costs. There are MANY bad reviews on the net about never getting a refund from this company, getting the run-around, etc. Beware of a company that redesigns the outside of a $3 Nitro OBD chip and sells it to you for $209.99. It is a nice light show at best, damaging at worst. You will DEFINITELY want to pass on this one!
| | |
| --- | --- |
| Average Horsepower (HP) Gain: | |
| Average Torque (TQ) Gain: | |
| Average Miles Per Gallon (MPG) Gain: | |
| Company Communication: | |
| Processing Speed: | |
| Total Rating | |

Update
Some people just don't know when to stop. Take a look at our recent comments page and see if you believe any of these 'reviews':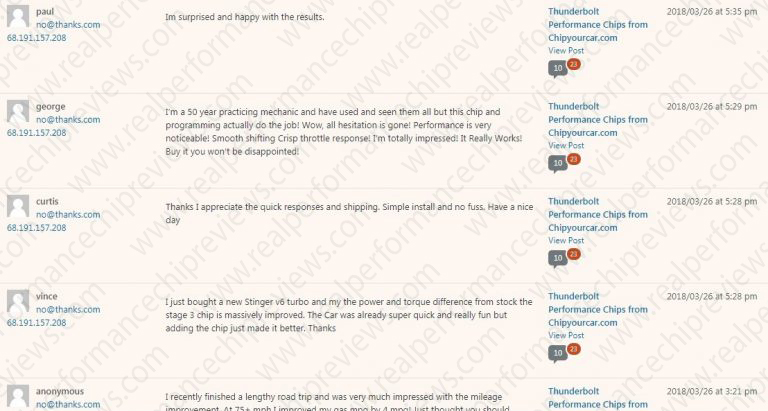 Wow, so many reviews from the same IP address and just over the course of a few minutes! Looks like someone isn't happy that there is a truthful review site that actually tells the truth and can't be bought off! Here is proof that it is actually someone from chipyourcar.com trying to do damage control: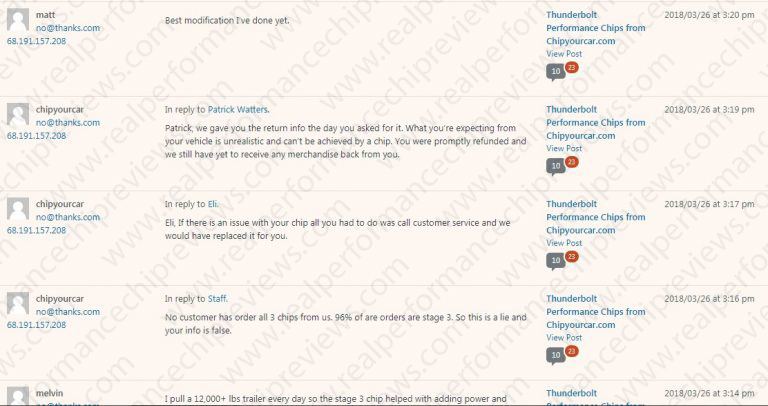 Same IP – same writing style – same time frame – same fake names. Want more proof that these fake reviews were submitted by chipyourcar.com? Remember the email they sent claiming that they had nothing to do with nitro? Take a look at the IP address it was sent from:

The sender of the email just so happens to have the exact same IP address as these fake comments. Hmm..
As you can see for yourself, this company simply has the NitroOBD chip printed with their logo and shipped to customers. It does not and cannot work – it is a scam light blinker. It is not a 'chip' at all. If they are willing to try to post this many fake reviews on our site, then you can rest assured that 90% if not all of the reviews on their site are fakes as well. Come on – a '50 year mechanic'? Don't make us laugh. Your product is garbage – stop trying to scam people!!