This is a review and analysis of the new 'Top Auto Accessory' OBD chip appearing in recent months on Ebay, Amazon, and directly via their website. If you are looking for a Top Auto Accessory chip review, then this is for you! What is this chip? Let's take a look:
Company Profile
The manufacturer is a company called 'Top Auto Accessory', according to the packaging. Their website, topautoaccessory.com, offers a few other small vehicle accessories, in addition to this chip. A direct link to the product page is here: http://www.topautoaccessory.com/18-performance-tuning-tuner-ecu-mapping-obdii-speed-chip-module.html
They are also available via ebay from seller 'top_auto_accessory'.
Cost
The cost on the website is $29.95 USD, a bargain for a tuning chip – or is it? Ebay lists them at $34.95. The cost is again a very suspicious factor to us, as no genuine tuning product can be manufactured this cheaply.
Product Appearance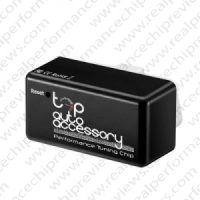 The OBD tuner module comes in one color: black.
Another dead giveaway of this product's origin lies in the familiar packaging: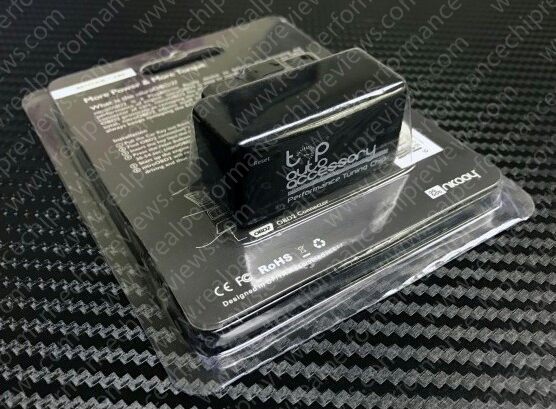 Note also the name 'Nicolay' – the same as on the NitroOBD chip scam.
Some of the website claims include:
Up to 35% more horse power
Up to 30% added torque
Better fuel economy – up to 7 MPG increase
Quicker acceleration (0-60 MPH time)
The instructions claim to have vehicle maps onboard to allow the device to optimize the vehicle performance when connected to the OBD port. The 7MPG claim is a bit high, but let's see what it does.
Internal Analysis
After removing the cover, we were not really surprised to find the old familiar circuit board, for those of you who were with us for the NitroOBD scam: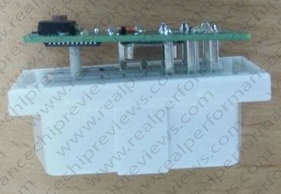 The circuit board is built around a hidden IC on the rear of the circuit board, which is a STM8S003F3 IC. Right away we see a problem here, because if one pulls the datasheet for the STM8S003F3 IC, we can see from the manufacturer ST, that this chip has a maximum program memory size of 8KB: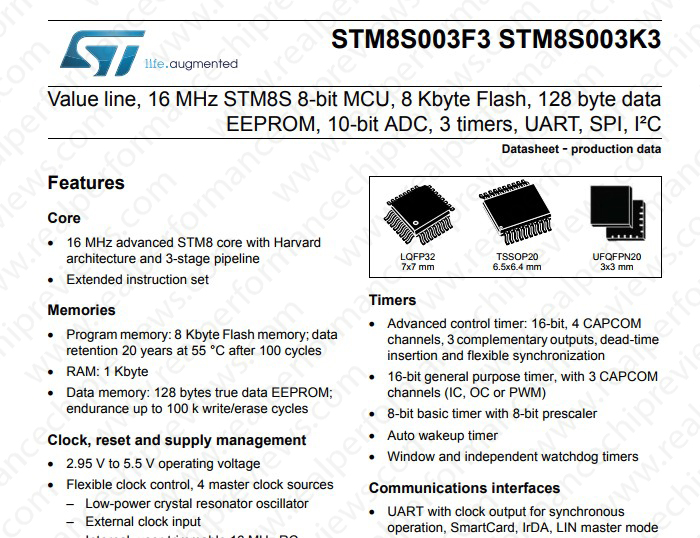 From several searches, we verified that ECU maps for a vehicle will be at least 20KB or larger PER MAP! This is way too large for the STM8S003F3 IC to contain. So, if this is the case, then there are no genuine vehicle maps onboard this module. What can be stored in such a small 8KB sized space then? We have our own suspicion.
Operation
We connected the Top Auto Accessory Chip module as shown in the instruction sheet to our 2012 BMW 530i 3.0L L6 and the lights began to blink, eerily in the same way as the NitroOBD chip did.
We followed the instructions and drove at least 200+ miles to give it the benefit of the doubt, and…… nothing. No power increase, no mileage increase. We did, however, see a neat light show!
Analysis
It is clear from our analysis so far that the Top Auto Accessory chip is nothing but a different colored NitroOBD chip! It does not have the physical capacity to hold real vehicle ECU maps. 8KB of memory IS large enough for a light blinker program however, and we believe this is exactly what it truly is – a blinker in a black colored case. The circuit appears to monitor the pins from the OBD port and the small microprocessor blinks the lights when activity is detected, giving the appearance of the chip's operation. While some users online claim to have seen small gains in pickup or fuel economy, we believe this is due to either the placebo effect or other vehicle / environmental factors. While we did not get any error codes set by our Top Auto Accessory module, others in their ebay feedback claim it does nothing.
The second issue is the claim that it fits SEVERAL different vehicles – this is not possible, even for one vehicle, with such a small 8KB program capacity.
Ebay also reflects, like the NitroOBD2 scam, that the Top Auto Accessory chip scam causes real issues: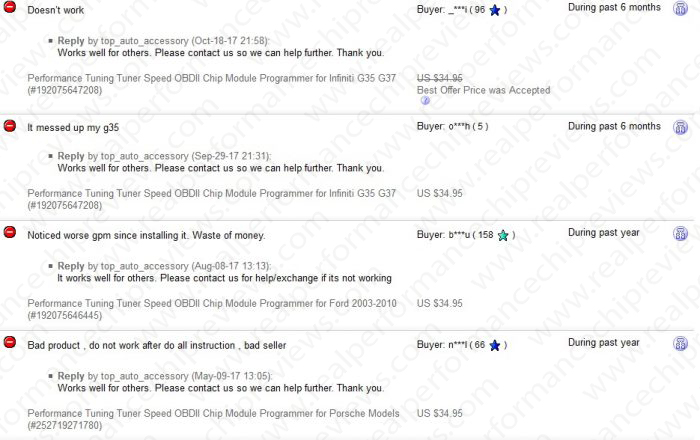 Not such a good $34 investment…
Company Response
We sent the following message to the company before completing this review, and received this response.
Our message to the company:
Hello,
We are an automotive performance chip review group and saw your performance chip. We have a few questions about your product:
1) Can you assure us this is not a NitroOBD scam? If so, why does the PCB inside look EXACTLY like the Nitro OBD chip?
2) Do you have any real-world proof of your performance?
Thanks for helping us to gather more information about your product for buyers on the net!

Company's response:
–NONE–
They did not even attempt to defend their junk product.
Conclusion
From our research and review, it is our opinion that the Top Auto Accessory OBD module performance chip is a scam. It may also cause ECU damage, as reported by some users of the NitroOBD scam chip on the net, so we suggest avoiding it at all costs. It is a nice light show at best, damaging at worst. You want to pass on this one!
| | |
| --- | --- |
| Average Horsepower (HP) Gain: | |
| Average Torque (TQ) Gain: | |
| Average Miles Per Gallon (MPG) Gain: | |
| Company Communication: | |
| Processing Speed: | |
| Total Rating | |