This is a Volo Performance VP15 Performance Chip review / analysis and comparison to the many other chips we have reviewed so far. The VP15 Performance Chip is available via the website, volochip.com. Let's take a look:
Company Profile
The manufacturer is a company called Volo Performance, according to the packaging. Their websites, www.volochip.tw or www.voloperformance.com, offers these and earlier versions of their chips. They are based in Arkansas and have been in the tuning market for several years, giving them more weight than previously reviewed products.
Cost
The cost on the website at the time of this review, was $129.95 USD for the VP15, which claims to provide enhanced pickup, power and fuel economy improvements.
The cost is an acceptable one, given that it appears to be a real chip, not a resistor or light blinker scam. It is an average price point.
Product Appearance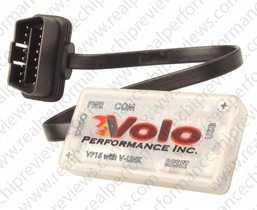 The OBD performance module comes in the clear case shown above, with a flexible OBD cable for fitment to the OBD port.
The install steps are fairly straightforward:
"1) Install software to your PC laptop or computer and run setup.exe ( Will not work on Mac's, PC Only)
2) Program your chip. Start V-link and insert provided cable in the volo and your usb port. Follow instructions to fine tune your chip, to your specific car, year make, model.
3) Start your car and warm up your engine, before plugging in the OBD 2 port connector.
4) Plug the Volo VP15 into your car's under dash 16 pin OBD2 port. Press the RESET button, once car is hot and idling. Wait till the calibration light show calms down, before driving. (about a minute or 2)
5) DRIVE Your volo chip is self learning and will continue to adjust itself to your driving style over time.
ENJOY the gas savings and more pick up than before."
Sounds more believable than previous modules we tested – Let's see if it works.
Internal Analysis
After removing the cover of the module, we see a much more complex circuit board than the previous chips – a newer PIC chip by Microchip with an onboard USB driver, dual voltage regulators, and a 20MHz crystal, as opposed to the 4MHz ones in all the previous light blinker scams. So far, this board appears to have the capability to do what they say it does: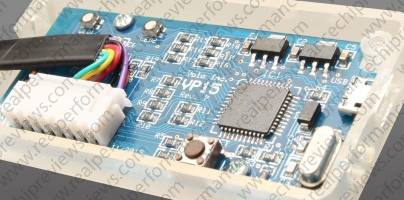 The IC on the Volo VP15 PCB it's a newer generation Microchip 18F4550, but this IC has no CAN controller, also the VP15 circuit got no CAN line driver.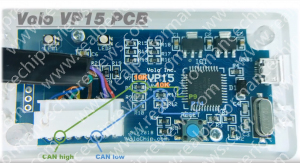 From datasheet we can see: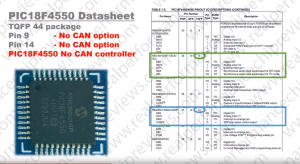 So far, this board appears to "possibly" have the capability to do what is claimed.
We also examined the OBD connections from the connector to the circuit board and the following nine pins are connected: 2,4,5,6,7,10,14,15,16.
Let's check out the OBD protocols and which pins they require: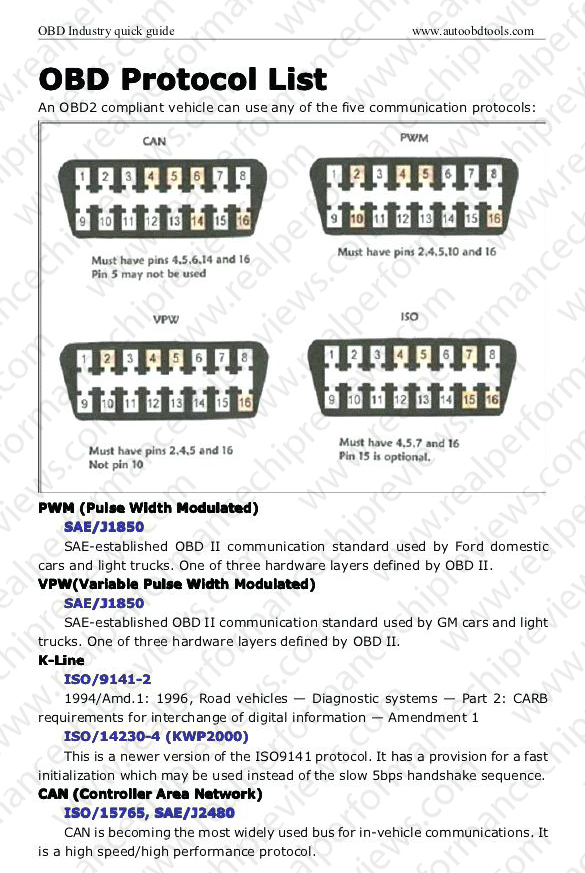 From this chart, we can see the following protocols and which pins must be present for them to be used:
CAN – 4, 6, 14, 16
PWM -2, 4, 5, 10, 16
VPW – 2, 4, 5, 16
ISO – 4, 5, 7, 16
So we can conclude from this that the Volo VP15 module:
HAS all OBD connections for the CAN protocol
HAS all OBD connections for the PWM protocol
HAS all OBD connections for the ISO protocol
HAS all OBD connections for the VPW protocol
From these connections, the VP15 does have the capability to interface to any of these protocols.
Operation
We connected the VP15 to our 2012 BMW 530i 3.0L L6 as instructed and the lights came on as expected: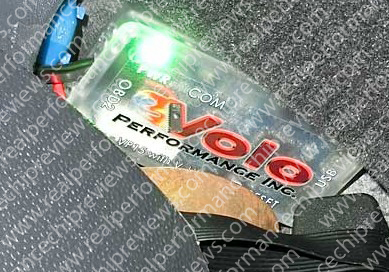 We followed the instructions, connected it to the software and programmed it for the vehicle year, make, model and mode desired. We drove only a few miles and immediately noticed definite improvement in throttle response and pickup power. After a few tanks we also noticed an improvement of almost 2MPG on our BMW 530i. Definitely an improvement! The VP15 allows three modes of tuning, Max power gain, Mix of Power gain and Fuel economy, and Gas saver mode. We chose the middle mode, and so far, it has made changes to both!
Analysis
It is clear from our analysis so far that the Volo VP15 Performance Chip is the real deal and is a good choice for those seeking a general tuning solution.
Company Response
We sent the following message to the company before completing this review, and received this response.
Our message to the company:
Hello,
We are an automotive performance chip review group and saw your performance chip. We have a few questions about your product:
1) Can you assure us this is not a NitroOBD light blinker scam?
2) Do you have any real-world proof of your performance?
Thanks for helping us to gather more information about your product for buyers on the net!

Company's response: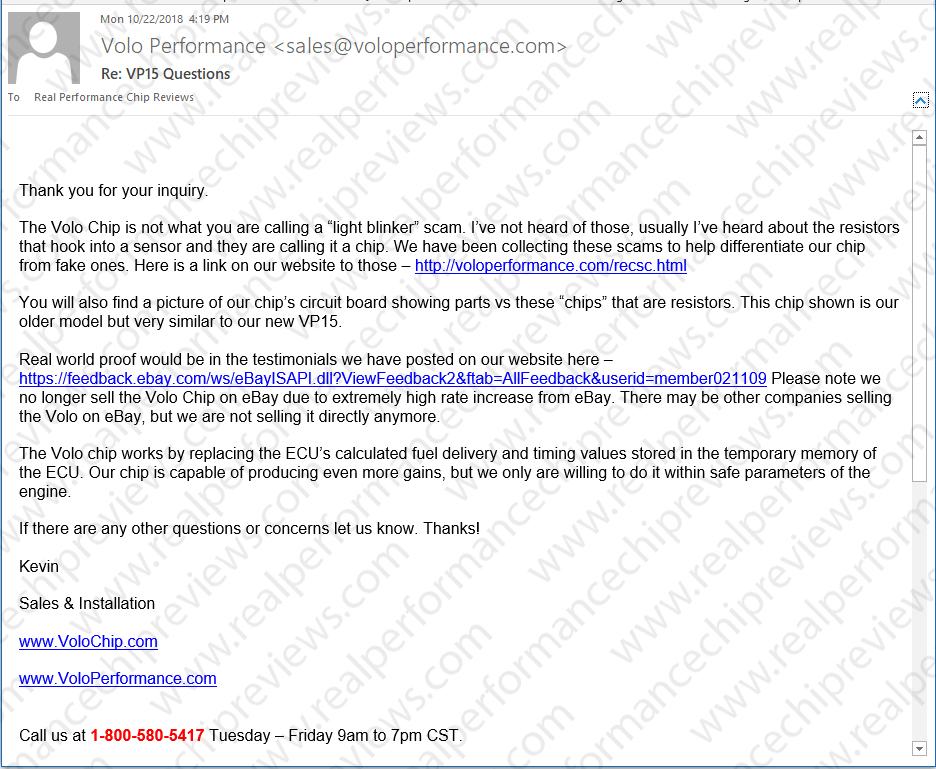 We did receive this prompt response and they provided many references for proof of their product's vehicle enhancement. We are impressed with the straightforward answers they provided and – no , we were not compensated by, neither do we work for Volo!
Conclusion
From our research and review, it is our opinion that the Volo VP15 Performance Chip Works! You will DEFINITELY want to try this!
| | |
| --- | --- |
| Average Horsepower (HP) Gain: | |
| Average Torque (TQ) Gain: | |
| Average Miles Per Gallon (MPG) Gain: | |
| Company Communication: | |
| Processing Speed: | |
| Total Rating | |