This is a Powertune Performance Chip review. This Performance Chip can be found on ebay from seller 'powertuneperformance'.
Company Profile
The manufacturer is a company called Powertune Performance, from their product packaging. The website is powertuneperformance.com. One red flag about the site is that it is very basic and was created last year (2017). It has been our experience that these copycat NitroObd scams usually are new and pop up quite quickly. The proof will tell if this is a real chip or not.
Cost
The cost on ebay at the time of this review was $79.95, and the same cost was shown on their website. Again, this price range is VERY suspect, as no real tuners can be designed this cheaply.
Product Appearance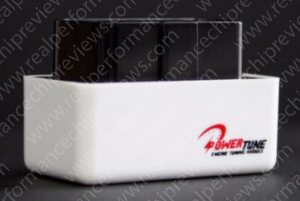 We purchased one of these modules from ebay for testing.
Immediately we noticed the first red flag – the size and shape of the case. There are at least five other colors and 'brands' of the same shape and size, but so far they all have been proven to be nothing but Nitro OBD scam clones. Hopefully this one will be different. Many products make big claims, but do they really work?
Internal Analysis
After removing the cover of the module, we once again noticed an old familiar circuit board design:
If you were with us for the NitroOBD Performance Chip Scam, you will notice this identical circuit board immediately. The circuit board is built around a hidden SMD IC on the rear of the circuit board, which is a STM8S003F3 IC. Right away we see a problem here, because if one pulls up the datasheet for the STM8S003F3 IC, we see from the manufacturer, ST, that this chip has a maximum program memory size of only 8KB: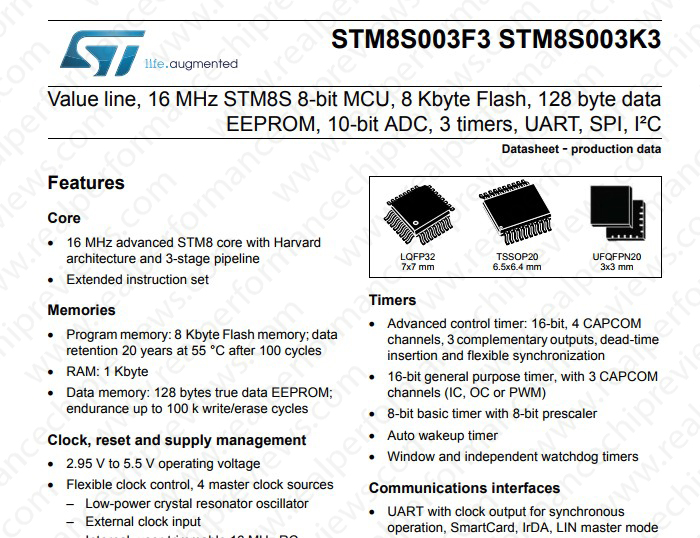 Online searching shows that ECU maps for a vehicle will be at least 20KB in size or larger PER MAP! This is way too large for the STM8S003F3 IC to contain. So, if this is the case, there are no genuine vehicle maps onboard this module. What can be stored in such a small 8KB sized space then? It would be perfect for a fancy light blinker – hmmm….
We looked a little closer and removed the circuit board from the OBD connector shell itself. What we noticed is another BIG fed flag: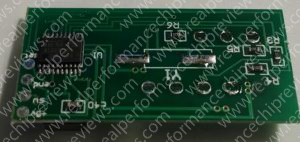 There are only a total of eight connections to the OBD shell. All other pins are NOT CONNECTED! Here is a view of the actual OBD shell: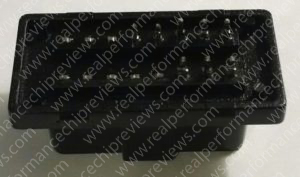 Notice all pins have been cut short so they will not touch the circuit board except for the following pins: 1, 2, 3, 4, 5, 14, 15, 16. What does this mean? When we check the OBD protocols and which pins they require, we will see another red flag: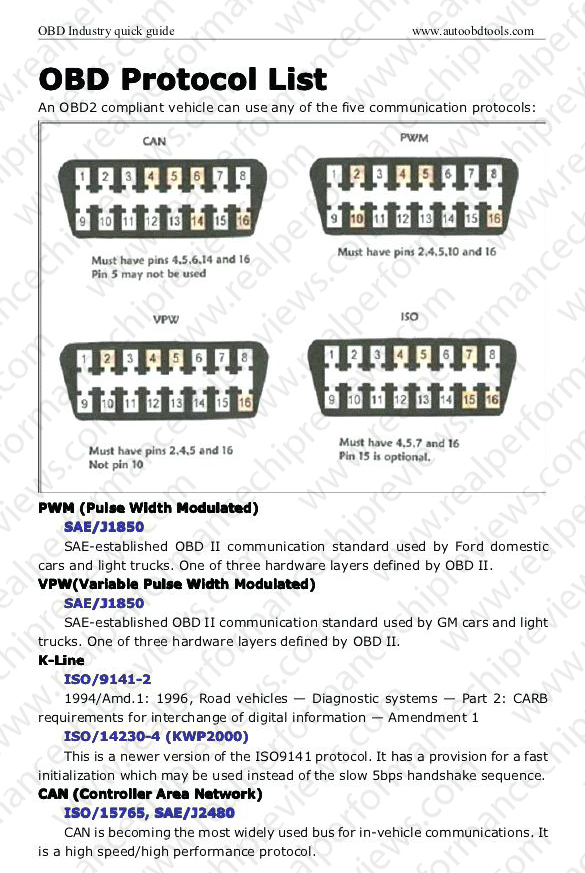 From this chart, we see the following protocols and which pins must be present for them to be used:
CAN – 4, 6, 14, 16, PWM -2, 4, 5, 10, 16, VPW – 2, 4, 5, 16, ISO – 4, 5, 7, 16
So we can conclude from this that the Powertune module:
Is MISSING PIN 6 – IS NOT CAN CAPABLE
Is MISSING PIN 10 – IS NOT PWM CAPABLE
Is MISSING PIN 7 – IS NOT ISO CAPABLE
The only protocol left, VPW, is used on a very small number of vehicles. The vast majority use CAN or ISO protocol. This is the final nail in the coffin – even if the chip were somehow able to produce some magic, the pins needed for most vehicles they claim it works with are not even connected to the circuit board! However, the two most important pins, 4 and 16, which supply GND and +12V to power the light blinker ARE there 😉
In addition, the module claims to be custom programmed for a specific vehicle model. If this is the case, where is the programming port to flash the module with the vehicle programming? There are programming connections to the left of the stm chip, but they are inaccessible once the circuit board is assembled. Why is this significant? Because it proves once again, like the NitroOBD scam, that the chip is programmed with the light blinker program BEFORE it is assembled! This means the same program is used in all modules and it is impossible for it to be custom programmed for a specific vehicle.
Operation
We connected the chip to our 2012 BMW 530i 3.0L L6 as instructed and the lights came on as expected. The lights began to blink in the same sequence as the NitroOBD chip did.
We followed the instructions and drove at least 200+ miles to give it the benefit of the doubt, and…… nothing. No power increase from the Powertune Performance Module, no fuel economy gains – nada. We did, however, see a neat light show in a pretty white colored box!
Analysis
It is clear from our analysis so far that the Powertune Performance module is nothing but another Nitro OBD light blinker scam. From others on the web, there are reports of ECU damage from NitroOBD, and, being that this is most likely the same thing in another colored cover, there is the possibility of vehicle damage at worst, a pretty light show at best.
Another interesting area to research is the Userid histories of these scam sellers on ebay. Most of the time, legitimate performance companies will only change their ebay seller name only once, or even keep the same name they had when they first started selling on ebay. Not always, but most of the time, these scammers will change the name of their seller account Userids several times, trying to look 'official' to buyers and better match the garbage products they are selling. Our lookup on powertuneperformance's past Ebay Userid history shows this is indeed the case with Powertune performance chips:
This shows us that only recently, approx one year from the time of this review, this ebay seller changed his username to match his product – around the same time he began selling these scam chips. This seller has tried to sell everything in the past from nutrition products to antiques to manuals, and it now looks like he has finally found a good market for suckers. This is even more evidence to fuel our suspicion that this is just another scam.
Also, it appears some buyers on ebay are beginning to figure out this scam and know it can damage vehicles due to the low quality:
Company Response
We sent the following message to the company before completing this review, and received this response.
Our message to the company:
Hello,
We are an automotive performance chip review group and saw your performance chip. We have a few questions about your product:
1) Can you assure us this is not a NitroOBD scam? If so, why does the PCB inside look EXACTLY like the Nitro OBD chip?
2) Do you have any real-world proof of your performance?
Thanks for helping us to gather more information about your product for buyers on the net!

Company's response:
–NONE–
They did not even attempt to defend their junk product.
Conclusion
From our research and review, it is our opinion that the Powertune Performance Chip Module DOES NOT WORK. You will DEFINITELY want to avoid this!
| | |
| --- | --- |
| Average Horsepower (HP) Gain: | |
| Average Torque (TQ) Gain: | |
| Average Miles Per Gallon (MPG) Gain: | |
| Company Communication: | |
| Processing Speed: | |
| Total Rating | |