This is a Sawyer Tuning ST8PRO Performance Chip review / analysis. The ST8PRO Performance Chip was available on ebay at the time of this review, and also via their website. Let's take a look:
Company Profile
The manufacturer is a company called Sawyer Tuning, a relatively new company in the tuning market. Their website, www.sawyertuning.is, offers this and several other versions of their OBD and other performance products. The direct product page is here:
http://www.sawyertuning.com/product/best-st8pro-stage-3-obd-gas-diesel-performance-chip-programmer-30hp/
Cost
The cost on the website at the time of this review, was $139.95 USD for the ST8PRO module, and $139.95 on ebay, which claims to provide enhanced pickup, power and engine performance enhancements.
The cost is an average one, given that so far it appears to be a real chip, not a resistor or light blinker scam. It is an average price point. We purchased one from ebay for testing.
Product Appearance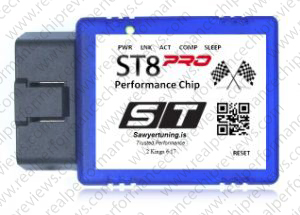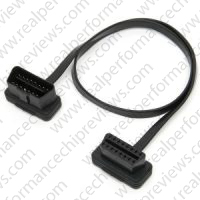 The OBD performance module comes in the translucent / clear blue case shown above, and also includes an optional OBD extension cable for placing the chip in hard to reach areas. The module can either be plugged in directly to the vehicle OBD port, or connected via the cable. This is another unique case, unlike the many others we have reviewed.
The install steps were fairly straightforward:
"1) Start your vehicle and allow it to warm up
2) Use a paper clip to press the RESET button inside the chip case and release
3) The chip will start calibration and the lights will blink
4) Wait 1-2 minutes for the calibration to complete."
Sounds different than most previous modules we tested – Let's see if it works.
Internal Analysis
After removing the cover of the module, we see a much more complex circuit board than the previous chips. The engraving on the IC was too light to positively identify, but it appears to be a newer generation, as it has an internal clock (no external crystal or resonator is needed), so it cannot be another PIC16F59, like in the various light scam chips. We also noticed a jumper header for configuring some kind of mode or options, as well as five leds instead of the standard three in the majority of scam chips. So far, this board appears to possibly have the capability to do what is claimed: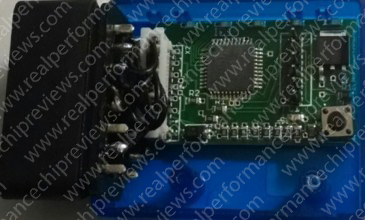 We examined the OBD connections from the connector to the circuit board and the following nine pins are connected: 2,4,5,6,7,10,14,15,16.
Let's check the OBD protocols and which pins they require: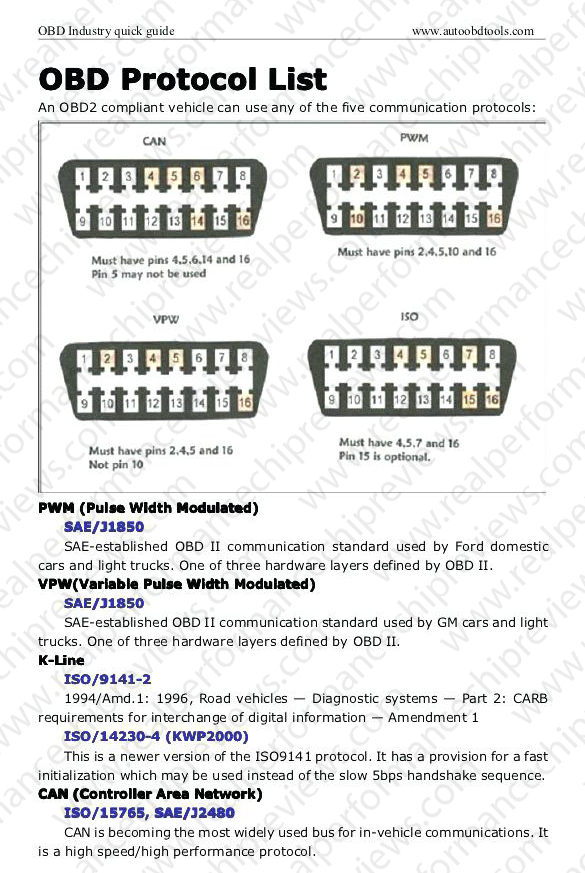 From this chart, we see the following protocols and which pins must be present for them to be used:
CAN – 4, 6, 14, 16, PWM -2, 4, 5, 10, 16, VPW – 2, 4, 5, 16, ISO – 4, 5, 7, 16
So we can conclude from this that the ST8PRO module:
HAS all OBD connections for the CAN protocol
HAS all OBD connections for the PWM protocol
HAS all OBD connections for the ISO protocol
HAS all OBD connections for the VPW protocol
From these connections, the ST8PRO does have the capability to interface to any of these protocols. According to the product information, the company claims it is custom programmed for use with only one vehicle. For use on another vehicle, it must be reprogrammed.
Operation
We connected the ST8PRO to our 2012 BMW 530i 3.0L L6 as instructed and the lights came on as expected: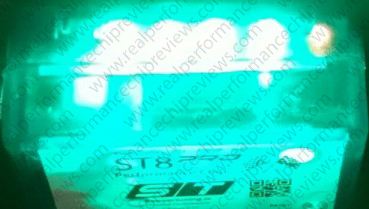 After calibration, we drove only a few miles and did notice definite improvement in throttle response and pickup power. In addition, the idle and overall handling of the engine did seem to be smoother. We continued to run it for one tank of fuel and also noticed we had gained almost 2MPG on fuel economy.
Analysis
It is clear from our analysis so far that the ST8PRO Performance Chip is capable of delivering real gains and is a good choice for those seeking a general tuning solution.
Company Response
We sent the following message to the company before completing this review, and received this response.
Our message to the company:
Hello,
We are an automotive performance chip review group and saw your performance chip listing. We have a few questions about your product:
1) Can you assure us this is not a scam?
2) Do you have any real-world proof?
Company's response: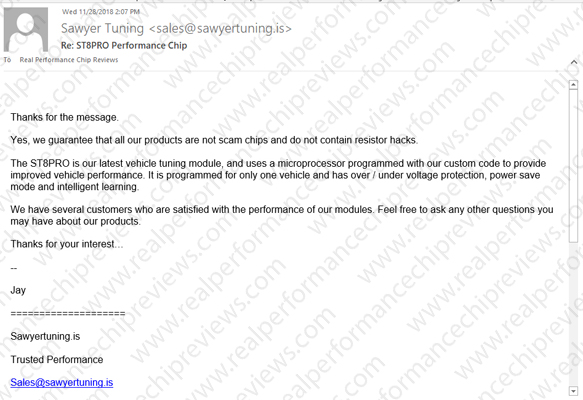 It is comforting to receive a response that answers our questions without threats or intimidation for a change. The module does seem closer to the 'real deal' than many others we have analyzed to date.
Conclusion
From our research and review, it is our opinion that the ST8PRO Performance Chip works and is a nice buy any vehicle enthusiast.
| | |
| --- | --- |
| Average Horsepower (HP) Gain: | |
| Average Torque (TQ) Gain: | |
| Average Miles Per Gallon (MPG) Gain: | |
| Company Communication: | |
| Processing Speed: | |
| Total Rating | |